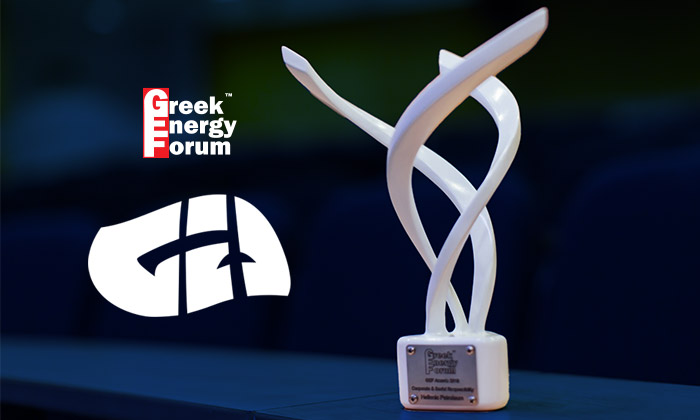 Following the successful completion and continuing the legacy of the first GEF Awards, the Forum is aspiring to make it a tradition. The GEF Awards 2018 marked another milestone in bestowing those companies and individuals that have become benchmark of excellence, competence and innovation in the energy and hydrocarbons sector in the region.
We were very proud that the GEF Awards 2018 were run under the auspices of the Economic and Commercial Office of the Greek Embassy in the UK, and the Cyprus High Commission – Commercial Section.
We believe that it is a responsibility of GEF to act as envoy of Greece and the wider region in the international energy and hydrocarbons industry, by promoting its numerous best practices and success stories in this field, and thus highlighting this way its creative, innovative and forward-looking side.
Winners
Energy Influencer:

Mathios Rigas, CEO, Energean Oil & Gas

Energy Innovator:

Smart Islands Initiative

Energy/Hydrocarbons Company:

Mytilineos Group

Energy Consultancy/Services:

Kantor Management Consultants

Maritime Services:

Gaslog

Social Responsibility:

Hellenic Petroleum

Green Energy:

Eunice Energy Group
Award Categories & Nominated Companies
Energy Influencer
Konstantinos Laskaris (Principal Motor Engineer, Tesla Motors)
Menelaos Ioannidis (CTO, Lightsource Labs)
Mathios Rigas (CEO, Energean Oil & Gas)
Energy Innovator
Erma First
Energy-Economy-Environment Modelling Laboratory E3MLab
Smart Islands Initiative
Energy/Hydrocarbons Company
Mytilineos Holdings
Edison
ENI
Energy Consultancy/Services
PwC
Kantor Consultants
Mediterranean Growth Initiative
Maritime Services
Gaslog
Arista Shipping (Project Forward)
CMM/Latsco (LPGreen project)
Green Energy
EUNICE GROUP
VOLTERRA
EREN Group
Selection Process
GEA 2020 nominees have been shortlisted by the Awards Board which has acted as an independent panel of distinguished experts, governing the impartiality and robustness of the process.
The Awards winner of each category is then determined through a public and anonymous voting process (the GEA 2018 exceeded 3,500 unique votes), where the nominee with the highest number of votes wins the Award.
As this is an open vote, GEF maintains no control over the voting process – while the results of the voting are audited by the Awards Board guaranteeing their impartiality. As such, both GEF and the organising committee have no influence in determining who the winners of the Awards will be.
Awards Board