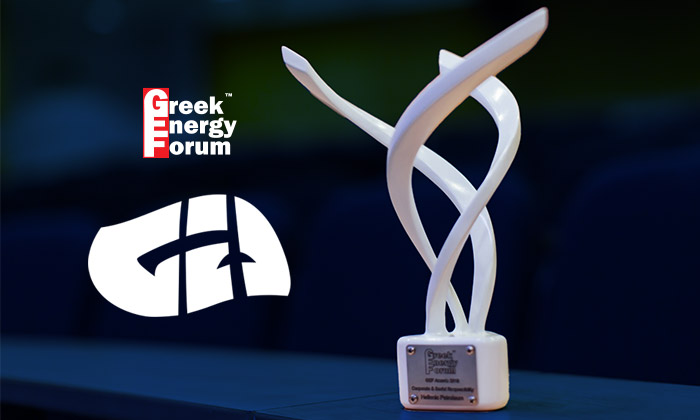 Since its establishment in 2013, the Greek Energy Forum (GEF) has provided a dynamic platform upon which energy professionals have the ability to network, share ideas and best practices on current industry developments and market trends in Greece and SE Europe, as well as propose and communicate energy policy proposals and reforms to governments and decision makers.
Underpinned by this aspiration and the ideal of "Aien Aristeuein", GEF established its first Greek Energy Awards (GEA) ceremony in 2016, envisioning to acknowledge organisations and individuals who excelled and inspired through their vision, work and contribution in the sectors of energy and hydrocarbons in the Eastern Mediterranean region.
Following the successful completion of GEA 2016, GEF has been aspiring into maintaining and building on this tradition by running it once every two other years. GEA 2020 is going to be the third iteration of the awards, bestowing those companies and individuals that have become benchmark of excellence, competence and innovation, and thus drive change forward in the energy and hydrocarbons sector in the region.
Here are the winners:
Environment Social and Governance: TAP (Trans Adriatic Pipeline)
Energy Innovator: National Technical University of Athens («Prometheus» team)
Green Energy: Terna Energy Group Energy
Influencer: Evangelos Mytilineos (Chairman and CEO of Mytilineos)
Maritime Company: Anemoi Marine Technologies / Blue Planet Shipping
Energy Consultancy/Services Company: Exergia
Energy & Hydrocarbons Company: DESFA
Award Categories & Nominated Companies
Energy Influencer
Evangelos Mytilineos (Chairman and Chief Executive Officer of Mytilineos)
George Peristeris (Chairman of Terna and President of the Hellenic Association of Renewable Energy Electricity Producers)
Energy & Hydrocarbons Company
Trans Adriatic Pipeline
Energean Oil & Gas
DESFA
Environment, Social and Governance
Trans Adriatic Pipeline
PPC (ΔΕΗ)
Motoroil Group
Green Energy
Juwi Hellas
METKA EGN
Terna Energy Group
Maritime Company
Anemoi Marine Technologies / Blue Planet Shipping
Signal Group
METIS
Energy Innovator
Helbio
National Technical University of Athens ("Prometheus" team)
Watt+Volt
Energy Consultancy/Services Company
Kanergy
Exergia
Karatzas Law
Selection Process
GEA 2020 nominees have been shortlisted by the Awards Board which has acted as an independent panel of distinguished experts, governing the impartiality and robustness of the process.
The Awards winner of each category is then determined through a public and anonymous voting process (the GEA 2018 exceeded 3,500 unique votes), where the nominee with the highest number of votes wins the Award.
As this is an open vote, GEF maintains no control over the voting process – while the results of the voting are audited by the Awards Board guaranteeing their impartiality. As such, both GEF and the organising committee have no influence in determining who the winners of the Awards will be.
Awards Board
Voting Process
Stemming from the vision that inspired the inception of the GEA as an inclusive celebration of, and for the best that our region has to offer, we are truly excited to invite all of you, members and friends, to shape the decision that will see a winner for each award category, by participating in a short survey.
Vote now
to determine the winners of our 7 Award categories and make a difference by recognising the companies and individuals who have demonstrated excellence in our industry over the past 2 years.
Voting is free and open for all until the 15th of March 2020. Every vote counts!
Sponsors